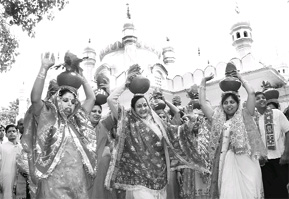 Devotees throng Mata Mansa Devi temple on the first day of Navratras at Panchkula on Friday.

At least 60,000 devotees had visited the Mata Mansa Devi temple on the first day of Navaratra fair that began here today. The fair is to continue till April 3.
Though the turnout of devotees remained low till the afternoon, the number started rising sharply by the evening which surpassed the figure of the last year on same day when 55,000 pilgrims paid their obeisance.
The offerings collected at the temple, in addition to cash of Rs 5,50,000, consisted of a piece of gold and 29 pieces of silver. Last year, Rs 5,25,000 were collected as offerings on the first day of Navratras. The number of devotees is expected to rise during the coming days, said Deputy Commissioner Rajender Kataria.
However, as far as the security was concerned, the district administration had left no stone unturned. There were sufficient security personnel keeping in view the number of devotees and the administration had also made good arrangements of parking. However, lack of coordination between security agencies and the Mansa Devi board led to harassment for many.
The employees of Central Soil and Water Conservation Research Farm had to return home without attending their duties when they were not allowed to take their vehicles to their office. The farm manager, Dr RS Nain, said the staff was provided with passes by the temple management last year. However, this time they were not issued any pass despite repeated requests. On the other hand thousands of people could be seen visiting temple through special gate carrying passes bearing markings of VIP and VVIP.
According to sources, the management has distributed more than 12,000 passes to politicians, bureaucrats and mediapersons to facilitate them and their acquaintances to have 'easy darshans'.
The pass system, despite an eyesore for many, has continued for several years. It was only a way to oblige the who's who by the board, said Devinder Mahajan, president of the MDC Sector 4 Association. "In fact we requested the Haryana Chief Minister during his visit here to stop this practice and he promised for the same. However, nothing was done to remove the partiality among the pilgrims in the name of passes," he said.